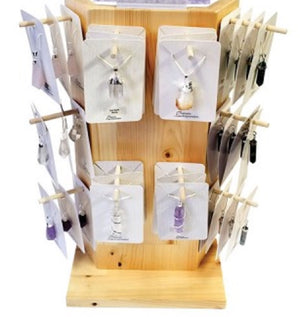 Crystal Pendants
Crystal pendant styles include rough points, faceted teardrop points, polished crystal points and silver twist points.

Rough point pendants are created with natural rough crystal points from Brazil. Each one is electroplated onto the bale. Crystals include amethyst, treated citrine and clear quartz.

Faceted teardrop points are expertly shaped and polished, then attached to a bale with electroplating. Crystals may include amethyst, citrine, clear quartz and rose quartz.

Point pendants are shaped and polished to reveal their natural beauty and set into a nikel-free metal alloy bale. semi-precious stones may include gold tigereye, amethyst, carnelian, lapis, fluorite, opalite and rose quartz.

Silver twist points are composed of double terminated crystal points and delicately spiral wrapped with sterling silver - hand-crafted in Brazil. Crystals may include clear quartz, rose quartz, smokey quartz, black obsidian, treated citrine and amethyst.

Crystal points are used to focus the healing power of the crystal and make subtle yet eye catching pendants.
Purchase online and pick up in studio...  A quick and easy way to shop!